It does not matter what business or industry you are dealing in; if you are working with clients or customers, you must provide them with the best customer support. A good customer support experience will win you more customers and help your business to grow. Unfortunately, many companies are not sure how to create an effective customer support strategy that suits their customers' needs and business. This often leads to the question: which type of phone service is better for your business: automated phone service or live agents?
Live agents or live answering services employ actual human agents to answer phone calls for different businesses. They have highly-trained virtual receptionists who answer calls in a professional and friendly manner, promptly providing clients with the assistance they need.
In an automated phone service, the entire phone call is handled with machine automation. A computer "interacts" with human beings through the use of voice commands and telephone keypad tones. With an automated phone service, there is no need to pay an expert to take messages or transfer your clients' phone calls.
If you are wondering which is better for your particular business between live agents and an automated phone service, you have come to the right place. This article will discuss the benefits of live agents as well as the pros and cons of automated answering services. We will also discuss the type of businesses you can use either of the two. Keep reading to learn more.
A live answering service offers the warmth of a real, live human voice on the end of the line and takes on the task of answering phone calls. Virtual receptionists are trained to handle calls in a friendly and professional manner. In addition to taking messages and directing calls, they serve as representatives of your business.
Here are more details of the benefits of hiring a live answering service for your business.
Live agents offer the convenience of an automated phone answering service without losing the personal touch of a live human voice. When clients call your office for customer support, they expect their issues to be heard and their concerns to be addressed by an expert. Many people can be easily frustrated when they are forced to interact with an automated system.
A live answering service employs virtual receptionists who answer calls and provide a human-to-human experience. With a real person answering the calls, instead of a robot, your clients will be met with an appropriate emotional response, whether the situation calls for the live agent to respond with a calm, controlled tone or a happy tone. 
Personalized Customer Service
The key to customer satisfaction in any business is human connection. People who call your business want fast, responsive, and personalized customer service. They expect a painless and straightforward experience that meets their needs and resolves any issues they have.
The customization of live answering services ensures that all phone calls are handled the same way you would. You can work with the live answering service provider to create a script and answers to common questions in your business. Therefore, you can be sure that they will not spread confusion and misinformation.
Hiring a live answering service for your business will ensure that your clients walk away feeling happy and satisfied after a phone call. 
Ability to Handle Complex Calls
It can be very challenging to answer all calls from your clients during your office hours – even the most important calls can fall through the cracks. Anyone running a company knows that a single phone call can sometimes be the element that confirms a sale. With a live answering service, you will never miss those important calls as live agents are capable of handling even the most complex queries.
Live answering services have professional virtual receptionists trained to handle all kinds of questions from customers. They can screen and forward important calls and messages that need an immediate response. They can also listen to your clients' concerns and help them find the fastest path to resolution. Utilizing a live answering service will give you peace of mind that all calls will be handled professionally and don't require any micro-management on your part.  
The success of any company or business depends on customers. Excellent customer service can also give your business a powerful competitive edge. Business emergencies can happen when least expected, even after office hours. In case of emergencies, your clients will need their issues solved promptly.
A live answering service allows your business to offer 24/7 customer support to your existing and potential clients. Many people prefer to call customer service after business hours when they are done with work. By hiring a live answering service, your customers won't have to interrupt their work day to troubleshoot an issue. Instead, they can be confident they can call your business anytime and someone will be there. 
Pros and Cons of an Automated Phone Service
As mentioned, the entire phone call is handled by a machine in an automated phone service. When customers call, they are met with an automated prompt. With automated phone service, there is no need to pay an expert to take messages or answer calls.
Automated phone answering services are always available 24/7 to serve your customers. They are also easy to set up and use for most businesses. They are also an affordable service and help to save on costs.
However, they are limited in capabilities. They do not have the capability to understand the caller's tone or accent. Besides, no set amount of menu items can account for everything a caller may have to say to a business.
Because of this, they can frustrate your customers and bring a poor customer experience. How many times have you sat through a frustrating automated "push a button" phone service? Most callers do not have the patience to sit and listen to all the Interactive Voice Response (IVR) options, especially when there is not even an option presented for what they are calling about.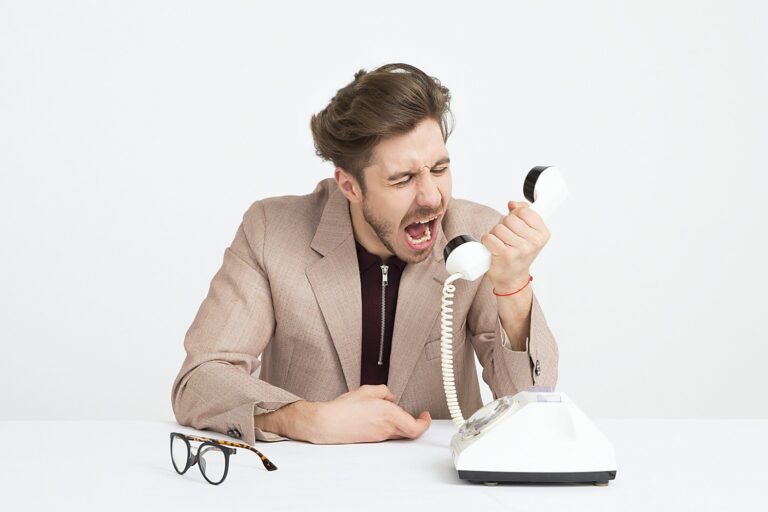 With an automated phone service, you risk freezing out callers. Your customers may become frustrated and fed up with your answering system and consider seeking services elsewhere. In addition, there is a chance that the system could malfunction at any given moment and inconvenience you. 
Types of Businesses That Should Use Live Agents
For any business that wants to stay at the top of the industry by providing a better customer experience, hiring a live answering service should be a priority. Live agents are crucial for businesses with complex services and those that require human interaction.
Here are the types of businesses that require live agents.
Software and other tech can go down anytime when least expected. Imagine if your client needs tech support and has to wait on the line for several minutes or hours! They will most likely become frustrated. A live answering service for a technology company can help your company handle technology issues on time and improve customer satisfaction.
The truth is more government agencies are expected to do more with less. If you work with a government agency, you will often find yourself playing the role of a telephone answering agent in addition to your primary role. A government agency answering service provides 24/7 customer support by answering calls and ensures that employees focus on their primary roles.
Phone calls at all hours of the day are very common for insurance companies. When an incident occurs, your customers won't want to wait and sit through automated prompts. A 24/7 insurance company answering service will bridge the gap between by ensuring you offer the best customer support all the time.
The same goes for the healthcare industry! Patients often require (and appreciate) real human interaction when they call with a health concern, medical-related questions, or to schedule or change an appointment. A HIPAA-compliant medical answering service will answer phone calls from your clients even when you are out of the office.
Types of Businesses That Should Use An Automated Phone Service
Automated answering services are ideal for small businesses with limited resources, including solopreneurs and startups. In that case, we recommend using something like 24/7 Voicemail services that will help support your efforts.
They are also ideal for small businesses with simple services. For instance, if you just need to present your callers with a short list of options for them to get the info they need, an automated phone service might work for you. However, if you want to add a personal touch, we recommend the services of a Virtual Receptionist for this.
Overall, it's our opinion that live agents are better than automated phone answering for the majority of businesses that want to grow. A live answering service will help you answer all calls from your clients and provide 24/7 customer support with human-to-human interaction. This improves customer satisfaction and enables your business to thrive.
If you want to learn more about all of the live answering services we offer, including appointment scheduling, employee screening, emergency dispatch, and more, click here. And always feel free to contact us to learn more about all of the options available.