Phone answering services are becoming more common today than a decade ago – and for good reason! A taxi call answering service is one of the emerging services that have moved transportation services to another level. So, whether you operate limos, taxis, or airport transport, you will find the service valuable.
A taxi call answering service specializes in answering calls for businesses offering taxi services, limos, airport transport, and other services. These are humans (not automation) who take calls, answer customer queries, provide them with relevant information, and schedule pickups.
As a result, working with a taxi call answering service will allow you to serve your clients better than ever. The service has greatly improved customer service, because instead of listening to an automated voice response, it allows customers to interact with real humans, which delivers better service and increases the chances of getting a solution to any problems. This post delves into factors to consider when choosing a taxi call answering service. 
What Should a Taxi Call Answering Service Provide?
Whether you are offering a taxi, limo, or airport transport, being in a position to provide immediate dispatch is a must. Changed flights, car breakdowns, and emergencies are some of the factors that may lead to a distress call or change of plans. A taxi call answering service that can provide an appropriate response, including immediate dispatch, is helpful.
In case of a canceled flight, a customer may need to reschedule their airport pickup or drop-off immediately. For a changed venue, a taxi call answering center should be able to provide transport to the new venue.
Having an active dispatcher during odd hours is also vital. It ensures that clients get help even during hours in the dead of night.
2. Providing Relevant Information
A call answering service should be equipped to provide relevant reservation information to transportation customers whenever they make inquiries. They should be in a position to easily schedule transportation and pass all information onward to customers and the transport team.
In some cases, customers may want to know about the pricing – which is mainly based on zip codes. So, a taxi call answering service that can provide detailed information on these aspects will likely provide greater customer satisfaction.
3. Bilingual or Multilingual Support
If you are in the transport industry, you will likely deal with customers from different countries and cultures. These customers might not be native English speakers, so hiring a taxi call answering service that provides customer service in multiple languages may be necessary.
A company that can provide customer support in multiple languages allows clients to express themselves in a language they're most comfortable in. They may more easily communicate their needs and their concerns, and if the taxi call answering service is bilingual or can easily access multilingual tools, it will be much easier to address the client's concerns.  It reduces misunderstandings and misinterpretations and minimizes waste of time.
Having multilingual attendants allows your business to provide effective and efficient service, which will increase the chances that your customers will repeatedly use your company for their transport needs. In addition, they will be happy to make referrals. 
Using a call answering service can support a steady and growing flow of customers while saving you  money. Answering high-volume calls in-house requires increased labor and overhead costs. If you hire in-house staff, you would need to train them, which increases expenses further. Therefore, outsourcing the service to companies that specialize in handling high call volumes is beneficial and could be cost-saving. Such companies have the infrastructure, workforce, and experience to respond to clients' needs effectively.
Look for a transportation answering service that provides the features and services you need (like the ones detailed in this article) at a competitive price.  Keep in mind that the more services your answering service can provide, the more likely your customers will be happy and your business will grow. 
For example, bilingual client support may impact the cost. However, investing in such a call answering service provider is a worthwhile undertaking if you want to be known for exceptional and wide-reaching customer service.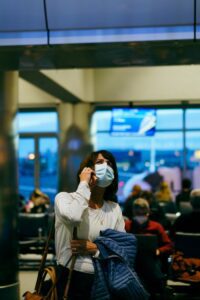 People need transport services at all hours and unpredictable times. Before you choose a taxi call answering service, you'll need to consider availability. Be sure your transportation answering service offers 24/7 availability to ensure you are adequately covered.
In addition, your answering service provider should be able to handle multiple calls at the same time. Calls rise sharply during peak hours and dip during off-peak hours. So, the call answering service you choose should be able to attend to all clients without dropping their calls. Also, they must maintain quality, remain patient and pay attention to the client's needs.
6. Reliable Customer Support
Customer support is a crucial consideration when choosing a taxi call answering service provider. A trustworthy and professional answering service will enhance each customer's experience and will ensure that your client's needs are attended to whenever they arise. 
The kinds of call agents your taxi call answering service employs is essential to your transportation business. Their qualifications and experience matter, and will go a long way in enhancing customer experience. 
An answering service with responsible staff will handle queries, schedule your drivers, and link them to clients while remaining calm, steady, and professional even during busy hours. Reliable customer support increases the consistency and effectiveness of your business. Therefore, your customers will be confident they will get the best help whenever they need it. This will keep them coming back and will help your transportation business flourish.
In addition, some clients love to get personal attention. Reliable and consistent customer support will help your customers feel they are getting real value for their money.
Other than answering clients' queries and scheduling pick-ups, a transportation answering center offering additional services will likely endear itself to clients and to you! Some crucial services a taxi call answering center should provide are the ability to process automated payments, vehicle tracking, and ride-hailing. For instance, call centers equipped with systems that allow for automatic payment are the best. They will enable the client to anticipate the cost of the service and make appropriate payments without wasting time. 
Also, you should look for a transportation answering service that can receive emergency calls, monitor the driver's log and keep records of all the activities. If the driver needs assistance, they should get it immediately.
A taxi call answering service is of utmost importance to streamlining your business. It will increase customer satisfaction and repeat customers. Utilizing a transportation answering service provider brings expertise to your company and professionalism to your business, which is critical to attracting and retaining clients. It also frees you to focus on the core of your business.  
If you want to delight your clients while winning new ones, contact us today. We will help you learn how a taxi call answering service will help you move your business to another level.