Respected electricians will always be in demand. As an electrician, you have the unique opportunity to offer one of the most essential services to the community. Employing an answering service for electricians can help you take your business to the next level.
Electricians work in different environments, such as the interior of commercial buildings and homes, construction sites, and the exterior of commercial and industrial facilities. Working as an electrician also comes with challenges. Your day-to-day work as an electrical service provider can keep you busy. From on-site client conversations to major commercial contracts and more, there is little time left for phone calls.
Whether you are a small three-person team, a large enterprise, or a sole proprietor, you must respond promptly to your potential and current customers. Missing out on a conversation with an existing or prospective client can have serious consequences. Even if you have an in-house receptionist (which is costly), electrical emergencies can happen outside of the typical workday.
An answering service for electricians can boost productivity by providing 24/7 customer service and freeing up a significant amount of employee time, allowing them to focus on what is most important. With highly trained virtual receptionists, your customers will never know they are talking with an answering service.
If you are considering hiring an answering service for electricians, you have come to the right place. This article will discuss everything you need to know about an answering service for electricians, including its benefits. Keep reading to learn more.
The Importance of Efficient Call Management for Electricians
If you are a busy electrician, chances are you spend most of your time in the field serving your clients and not the office. This means it is not unusual for calls to be missed while you are working at various job sites.
If you have a large customer base, you will often have to handle a large volume of calls from your customer. While you can employ an in-house receptionist to help you answer calls, that can be expensive. You will need to train them or spend a lot to set up an in-house call center. Also, an in-house receptionist may not be available to answer after-hour calls.
Nowadays, consumers expect responsive service from businesses any time of day or night.
When your customers contact your office with emergency issues, they expect their calls to be answered on time. If you do not, they will become frustrated and may even call the next electrician on their list. Also, your customers want someone who can communicate professionally. 
It is essential for your customers to feel valued. When they contact your office, they should be listened to by a qualified person who will ensure they get the necessary assistance on time. This improves customer satisfaction and boosts productivity.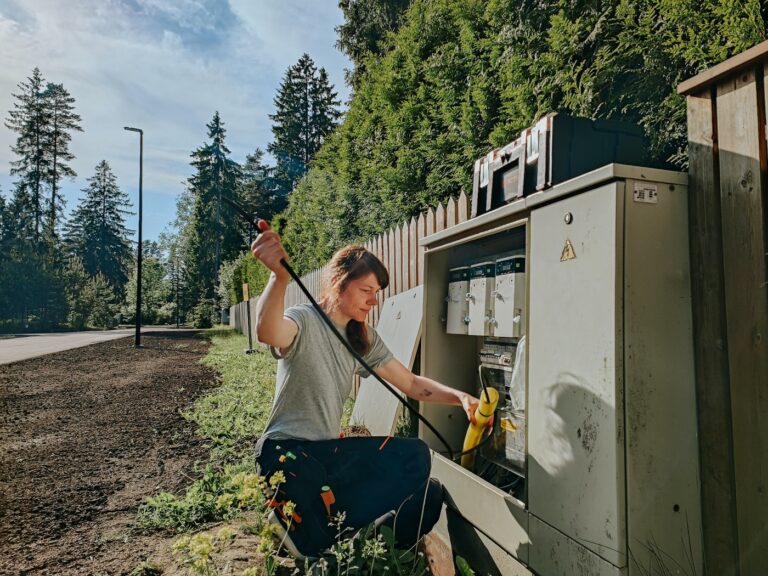 Answering Service for Electricians: How it Works
Your customers deserve to be cared for regardless of the time of day. Every business has routine calls that should not be ignored. However, these calls can come at inopportune times, like during new contract negotiations or in the middle of an important job. You would be forced to choose between one and the other, which can compromise your customer service.
An answering service for electricians handles all incoming calls. Whether your customers have an emergency issue in the middle of the night or you are on a holiday, a qualified receptionist will be there to help.
In addition, an answering service for electricians can help you personalize the customer experience through personalized call handling. By personalizing the customer experience, you can show your customers that you value them and are willing to go the extra mile to meet their needs. This can help improve customer satisfaction and loyalty.

Streamlining Operations with an Answering Service for Electricians
As an electrical service provider, you spend most of your time on the road trying to help your customers. Your staff too is often busy with other important duties aimed at growing your business. However, your office may receive too many customer calls, requests for quotes, routine calls, service inquiries, and customer questions that need immediate attention. Handling these issues may take a lot of your time.
An answering service for electricians frees up time for your staff to focus on other core tasks like helping your customers in the field. They will handle all customer complaints. When your workers have enough time to focus on their core duties, you can streamline operations and grow your business.
An answering service for electricians can follow whatever protocols your business has in place, assess each situation, and contact the appropriate staff via phone, email, or text. Payments can be processed over the phone before your staff is dispatched to eliminate non-payment issues.
Part of growing your business as an electrician is taking on contract customers with the occasional emergency. When your customers call your office with an emergency, they want you to respond as soon as possible. However, this can be very challenging, especially if the calls come when you are out of the office.
A professional answering service can help you with appointment scheduling and automatically integrate them into your existing online software. They can also make reminder calls to ensure you do not miss any appointments with your customers. Calendar updates are managed in real-time and are instantly conveyed to you so that you can adjust your schedules accordingly.
Boosting Productivity through Effective Communication
As an electrical service provider, you know the importance of effective communication between you and your customers. When information is not transferred correctly, there might be some misunderstanding and miscommunication, which can have a negative impact on the productivity of your business. Confusion is always present where there is no effective communication.
Clear and effective communication is vital when building trust with customers, and a professional answering service for electricians can provide an incredible advantage. Virtual receptionists can help with message forwarding and accurate information relay.
With an answering service for electricians, you are able to put an end to communication barriers. America's increasingly large Spanish-speaking population warrants improved customer service experiences. If you want to grow your customer base, you must have a plan in place to communicate with non-English speakers.
Bilingual answering service agents help to eliminate communication barriers. They will build custom call scripts in both Spanish and English, increasing your credibility and showing your commitment to serving callers of all backgrounds. With effective communication between you and your customers, you will be able to improve customer satisfaction, which leads to repeat business.
An answering service for electricians can help you provide 24/7 customer service and answer all customer calls.  They can help with appointment scheduling and reminder services. This frees up your time to focus on core tasks. In addition, you can achieve better customer satisfaction with seamless communication between you and your customers.
If you want to boost your productivity, learn more about answering services for electricians, and contact us with any questions.