While many businesses focus on gaining new customers, fulfilling customer orders is equally important to improve your business. Often, your customers' loyalty is based on how fast they can get your product or access to service. Streamlined order entry and order management can ensure your customer satisfaction level remains constant.
Order management refers to the process of integrating orders from various channels through data collection, processing orders, and order fulfillment. It starts with customers placing an order and ends when they receive their order or service. Without effective order management, managing inventory, capturing essential sales information, and meeting customer expectations can be difficult. 
When customers place an order with your business, they expect their order to be quickly processed so that they receive the product or service as soon as possible. If your customers call your office to place an order and can speak to a friendly, professional representative, they are more likely to go through with their order. They will even call to order again and refer you to potential customers. However, order management can be challenging, especially when running a busy business.
A reliable answering service can help you with order entry and ensure your staff has enough time to focus on other important duties. If you are considering outsourcing order entry, you have come to the right place. This article will discuss the benefits of hiring an answering service to help with order entry. Keep reading to learn more.
The Challenges of Order Entry for Busy Businesses
The following are the common challenges of order entry that many busy businesses face. 
Order Tracking Challenges
One of the biggest challenges of order entry for busy businesses is keeping track of orders in real time and managing the order entry process efficiently. When a customer's order is not tracked correctly, it can lead to stolen or lost items, which can be costly. If you run a busy business or are dealing with many customers, order tracking can be difficult as it can be hard to get a complete picture of what is available at any given time.
Your customers will want to know where their package is and when its anticipated arrival is. This means you need to track their orders and update them occasionally. However, you may not have the right technology and efficient staff to track orders from their origin to their destination.
Organizing Incoming Orders
Running a busy company means you often get many orders from your large customer base. Keeping a clear view of orders coming in from different sources can be a daunting task. Many organizations transact orders through different channels, so ordering, prioritizing, and processing the orders can become complicated, leading to late or lost orders. This can frustrate your customers.
Tracking, managing, and accounting for orders with paper invoices can lead to complications. Whether it is cross-referencing quantities and numbers by hand, translating order details from one system to another, or printing problems, manual order processes have vulnerabilities that can cause key pieces to get missed.
Accurate records are essential for any business. However, due to human error, manual data entry can be tedious, inaccurate, and time-consuming. Inaccurate order fulfillment may occur when an order is incorrectly recorded, or it might occur during the packing and picking phase. The end result will be a frustrated and upset customer.
Communication is crucial for efficient order fulfillment. You will want to keep clear communication with your staff to keep things running smoothly in your company. In addition, you will need to keep clear communication with your customers to handle their concerns.
It can be frustrating and time-consuming to look for information on one system and translate that data into another solution. If you fracture the order process into several pieces, you create more opportunities for mistakes. It also makes work more complex for your staff or any person who may want to interpret data to get insights.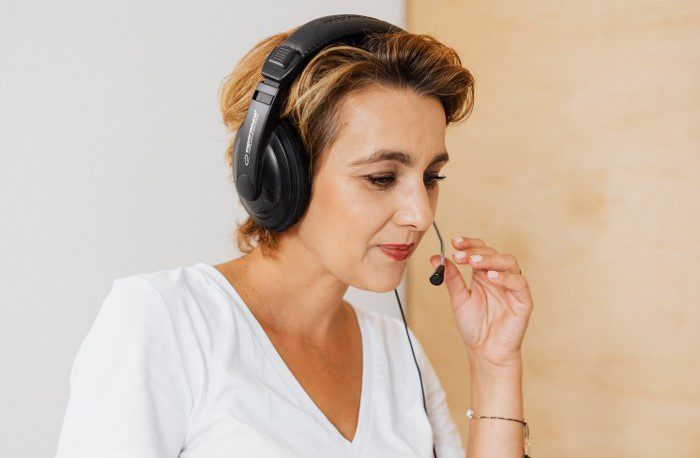 How Does an Answering Service Help with Order Entry?
As mentioned, order entry is crucial for your busy business as it affects customer satisfaction, loyalty, and retention. However, it can also be costly and time-consuming. That is why many businesses choose to hire live answering services to help them with order entry.
The following are ways in which an answering service can help with order entry.
Better customer service can help you improve customer satisfaction. Customer satisfaction is key to the success of any business. A happy and satisfied customer will come back again for your services when they need them. They can also refer you to potential customers and do positive reviews of your business. However, offering better customer service can be challenging if you run a busy business.
An answering service can help you improve customer satisfaction by providing excellent customer service. Answering services are staffed with qualified customer service representatives trained to handle customer inquiries and orders. Every call made by your customers is important. It is important to ensure that every call is handled by an expert who can listen to and address the caller's concerns.
As a business owner, you understand how important it is to keep your customers happy by being accessible. Most businesses are usually open during the typical business hours of 8 to 5. However, this is always when it's most convenient for customers to call your company. Many people prefer calling after-hours and on weekends when they are not working. This means you are going to miss many calls for the hours you are "closed." For most businesses, a missed call could mean a missed opportunity.
An answering service guarantees a virtual receptionist who will be available 24/7 to offer customer support and answer all phone calls. Answering service receptionists are also available during weekends and holidays. With an answering service, you will be sure that a qualified person will provide customer service when you are out of the office. This will make your customers rely on you again and increase loyalty.
It is essential for businesses to ensure that orders are entered accurately and completely. Inaccurate order entry can lead to delays and frustrated customers. Also, delivering accurate responses to your customers is vital for a positive experience.
Answering service receptionists undergo extensive training to enrich their listening, speaking, and technical skills. They are capable of processing orders and recording all customer information accurately. 
Increased Efficiency and Cost Savings
When you hire an answering service for order entry, you can free up your own time to focus on other aspects of your business. An answering service will also ensure that your staff has enough time to perform their core duties. This can lead to increased productivity and efficiency.
Setting up an in-house order entry team can be costly. Apart from office space and equipment like computers, you will also need to hire and train your staff. Hiring an answering service for order entry can be a cost-effective solution for your business. With an answering service, you will not worry about the cost of hiring and training an in-house receptionist to perform the same role. 
How Can Always Answer Help with Order Entry?
Always Answer is the best choice if you are looking for an answering service to help you with order entry. We strive to provide the best customer service in the industry by providing you with all the necessary information, so you can make informed decisions.
Whether your order entry needs are in retail, space, merchandise, or services, we will accommodate your needs and create an order entry service that suits you. Some of the order types we can accommodate for your business include the following:
Pick-up orders

Bulk orders

Rental orders

Resale orders

Single merchandise orders

Business services orders – B2B

Personal services orders – B2C

Specified deliveries
We can reach you through any preferred method you have. Whether you prefer a call, text, email, or fax, we can do that so you do not have an order fulfilled late or miss an important message. We can send the information to your business or contact you right away. 
An answering service for order entry can help you improve customer service. It can ensure that you do not miss any calls by providing 24/7 customer service. Other benefits of utilizing an answering service for order entry include improved accuracy, increased efficiency, and cost savings. If you want to streamline your order entry process, contact us, and we will be happy to help you.