Running a construction company is a challenging yet rewarding career. It means facing a lot of risks and difficulties. Whether small or big, construction companies across the board face the same challenges, which can be very frustrating.
As a contractor, you are tasked with keeping a construction site running safely, smoothly, on a budget and within schedule. You will likely experience various challenges, such as rising costs, increased competition, weather-related challenges, and labor shortages. 
A contractor's work involves spending most of the time in the field and traveling to and from the job site. This can make customer service a challenge as you cannot leave other field duties to take every single call that comes your way. However, for a contractor, a missed call can mean more than just a missed opportunity. It could mean reduced confidence in your team and lead to the loss of potential and existing clients. What's more, unanswered phone calls can also cause delays and project conflicts.
Hiring a contractor answering service can help construction companies solve most of their challenges. A contractor answering service will answer calls from your clients and improve customer service.
If you plan to hire a contractor answering service for your construction company, you have come to the right place. We will discuss the challenges a contractor answering service can solve for construction companies. 
Challenge #1: Rising Costs
Construction companies take on projects in the hopes of making a good deal. However, one of the challenges is that even before you start the job and get paid, you will need to put money into the project you just won a contract for. You will need to pay for construction materials as well as your workers.
With the cost of materials and labor on the rise, construction companies must constantly be aware of and adjust to changing market conditions in order to stay competitive. Hiring a contractor answering service for your construction company is a good way of minimizing costs while you generate more revenue.
When you hire a contractor answering service, you essentially free your staff from the phone. This will ensure that your staff focuses on other profit-driven tasks instead of spending much time answering phone calls. 
With a contractor answering service for your construction company, you will not have to hire an in-house receptionist to answer calls from your clients. The answering service will handle it all. This will help you eliminate the cost of hiring and training staff to answer your clients' phone calls. You will not have to worry about the added cost of paying a full-time employee during your off-season and slow periods. 
Challenge #2: Labor Shortages
Labor shortages have been a rising problem in the last few years, especially in the United States. A lack of qualified and/or experienced labor can have a big impact on your company's ability to complete projects on time and within budget. 
Construction is a reputation-based industry where clients work with companies they know and trust. Companies with qualified and experienced workers with low turnover tend to do better and remain at the top of the industry. Your construction company may experience labor shortages for various reasons. This may include employees quitting for doing more work than they are being paid for due to understaffing and frustration with day-to-day operations.
Hiring a contractor answering service can help you deal with labor shortages in your construction company. Contractor answering services offer more than just answering your customers' calls. Many answering services have highly trained virtual receptionists qualified to do everything you need, such as providing basic customer support and processing payments for you.
With a contractor answering service, your workers can focus on what they do best and leave the rest to the virtual receptionists. They can do everything safely and effectively by following your company's regulations. This will free up more time for your staff and allow them to focus on other important tasks. No employee will consider leaving your company because they are doing more work than they are being paid for.
A contractor answering service can offer the following services:
Payment processing

Appointment scheduling

Bilingual answering

Message taking

Call transfers and screening
Challenge #3: Weather-Related Delays
No matter where your business is located or what time of the year it is, there is always a risk of a natural disaster or severe weather, such as heavy rains, snow, thunderstorms, wind, ice, and extreme cold. Construction delays due to bad weather are common and obviously outside the control of a contractor. 
Weather-related construction delays can be costly and frustrating for everyone involved in the project because no one wants to lose money and time. While a contractor answering service can't do anything about the weather, they can help mitigate delays in various ways. 
If severe weather like heavy rainfall and snow is causing your construction work to stop temporarily, that does not mean everything outside the construction site stops. Your clients, as well as potential customers, will still call you with their questions and concerns. Without an answering service, most of these calls may go unanswered, or will keep you busy answering the phone when your focus should be elsewhere. A contractor answering service will be available to provide your clients with 24/7 customer support.
With a contractor answering service, your employees' safety will be a priority. They will not have to put themselves in danger during sneak snowstorms or heavy rains just to get to work and answer phone calls. A call answering service will ensure that someone is available to take calls regardless of the prevailing weather conditions. It will also help customers keep up-to-date on project timelines.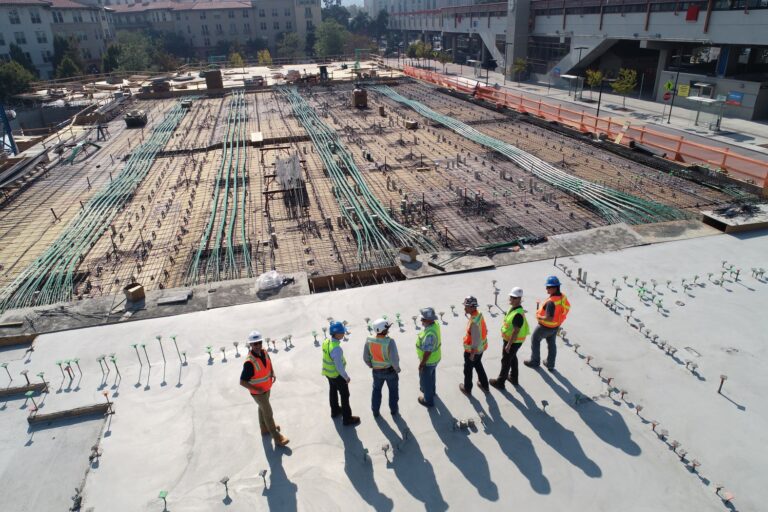 Challenge #4: Increased Competition
The construction industry is one of the most competitive sectors with more than 700,000 employers in the U.S. construction industry. With more construction companies competing for the same contracts, there is increased pressure to win bids and deliver quality work on budget and within the required time. This means your construction company will need to find ways to separate itself from other bidders and stay at the top.
The easiest way to separate your company from others is by focusing on the customers. This means you will need to provide exceptional customer service. A contractor answering service is the best way to go if you want to provide exceptional customer service and be outstanding. 
Your customers need to be sure they can rely on you when it counts. They may often have questions or issues with your services. If their phone calls go unanswered, they may become frustrated and seek services elsewhere. You can rely on a reputable contractor answering service to handle your clients' calls anytime. This way, you will build a reputation for reliability and stay at the top of the industry.
As a reputable contractor, you should always stay professional with both existing and potential customers. Receiving a phone call while working on a loud worksite can put off potential customers. With a contractor answering service, trained virtual receptionists will handle all calls in a quiet environment, and demonstrate your dedication to professionalism. 
At the end of the day, it's the little things you do that differentiate you from other companies. However, your staff cannot provide those value-added services if they are busy handling calls. An answering service will filter calls, forwarding only the important ones and allowing your employees to handle other important tasks.
Challenge #5: Technology Adoption
Technology is always advancing, and while this can be overwhelming, it can help to grow your construction company. Construction companies must embrace newer technologies such as Building Information Modeling (BIM) and other innovations in order to remain efficient and competitive. Using newer technologies may also help to save on construction costs.
Hiring a contractor answering service is one of the easiest ways you can use technology to grow your construction company. Answering services have trained virtual receptionists who understand the latest technologies, and may even utilize some like answering automation, when necessary. In addition, they can help your customers understand the benefits of using new technologies in the construction industry.
Conquer Challenges with a Contractor Answering Service
As you have read in this article, a contractor answering can help your construction company in many ways. It will ensure that your customers are offered customer support and care 24/7. It can also help your company deal with various challenges, such as rising costs, weather-related delays, labor shortages, and increased competition. 
Consider hiring a contractor answering service to help your construction company overcome today's challenges and launch itself beyond the competition. To get answers to how our team can best help you, contact us, and we'll be happy to serve you.