The success of your business will largely depend on how well you treat existing and potential clients. No matter how competitive your pricing is or how innovative your product is, if your customers are unhappy, they are not going to stick around. 64% of consumers find customer experience more important than the cost of services or products when purchasing. If you want to retain many clients and increase customer lifetime value, it is crucial to keep customer satisfaction high.
Customer satisfaction is a measurement that determines how happy customers are with a company's services, products, or capabilities. As a healthcare provider, your main focus should be to satisfy your customers. A satisfied customer will come again to your facility for healthcare services and even refer more clients to you. According to Edelman, 81% of consumers say brand trust is a deciding factor in their purchase decisions.
A customer satisfaction survey is vital for your healthcare facility as it can provide valuable feedback on the quality of services and care your patients and their families get. The feedback can help you identify areas for improvement and improve patient care. It also allows you to gauge customer satisfaction levels, which can be used to inform advertising and marketing decisions. 
If you are thinking of improving patient satisfaction, you have come to the right place. This article will discuss how outbound customer satisfaction surveys for healthcare facilities can help you improve your services. Keep reading to learn more. 
How to Conduct a Patient Satisfaction Survey
In today's competitive world, gathering feedback from customers is more important than ever. A patient satisfaction survey is a great way of collecting data. However, with so many types of market research available, choosing the most effective method can be challenging. The two most popular methods you use are online surveys and phone surveys.
Here are tips for conducting a successful patient satisfaction survey.
The first thing you need to do when conducting a patient satisfaction survey is to decide whether you will use a phone or an online survey. 
An online survey is conducted via the internet and can take many forms, like website surveys, social media surveys, or email surveys. They are typically self-administered, meaning a respondent can complete them on their own. These surveys are generally cost-effective compared to phone surveys as there are no phone expenses or live interviewers. They are easy to share at the click of a button and can be completed quickly. However, these surveys can be affected by technical issues like software compatibility issues and slow internet connection.
A phone survey is conducted by phone and involves a live interviewer asking a series of questions and recording responses. These surveys are incredibly convenient because almost everyone has a phone at home. They let interviewers add a personal touch to the conversation, which can help you build the relationship between you and your patients. Besides, the live interviewer can provide additional explanations or clarification for questions that may be confusing to the respondent.
Phone surveys are time-constrained and usually cannot go longer than fifteen minutes. They can be costly due to phone expenses and the cost of hiring live interviews. However, hiring a call center for healthcare facilities to help with this can present significant cost savings.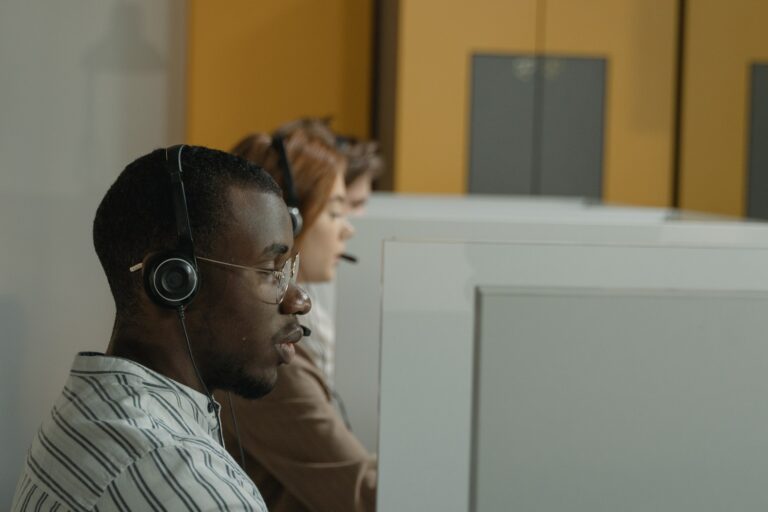 When it comes to creating patient satisfaction survey questions, you should bring your team together and identify potential challenges in your healthcare practice. This will ensure that your questions are relevant and solvable.
While you can ask the respondent any question, you must ensure that it revolves around their satisfaction. Your questions can focus on aspects such as the friendliness of the staff, the quality of care received, and the overall experience at the healthcare facility. The questionnaire should necessarily cover a few important questions for effective feedback collection. Also, you should avoid binary questions as it is difficult to draw actionable data from a "yes" or "no" response. 
Consider the following questions in your patient satisfaction survey.
Did you get enough time with the doctor?
Patients want enough time with their healthcare providers. Even if you are running a busy healthcare facility, it is important to ensure your customers have enough time with you or your staff. They should not feel rushed when discussing their concerns.
Did you have any issues arranging appointments?
You can ask your patients how easy they found it to book an appointment at your healthcare facility. An easier appointment booking process means higher patient satisfaction. By including this question, you can collect information about the timely assignment of appointments and make improvements in the process to increase contentment amongst patients.
How was your interaction with our staff?
The care and professionalism of healthcare providers impact patient satisfaction. Patients should feel valued and treated with respect. A frustrated patient will easily leave you for your competitors. You can ask them this question to know whether your staff was professional and if proper assistance was provided to the patient.
Based on your complete experience with our facility, how likely are you to recommend us to a friend or family member?
The healthcare industry is heavily dependent on recommendations from existing and former patients based on the care they receive. A patient's willingness to recommend a friend or family member to your facility is a concrete way to measure their satisfaction.
Include an Open-ended Question
You will want to include an open-ended question, such as; "What else do you want us to know?" or "What are the things you feel we should improve upon?" An open-ended question will allow the respondent to provide feedback on any experiences or specific areas they feel could be improved. 
Tips for Increasing Participation
The following are tips for increasing patient satisfaction survey participation.
You must make sure the survey is accessible to your patients by picking the right channel. To get people to take the survey, be sure to choose the right time for the invitation. A patient satisfaction survey should be displayed right after they have interacted with your healthcare facility.
Use Clear and Simple Language
To increase participation, you must use simple and clear language. You should avoid jargon and make sure that sentences are short. If you want to present a large amount of text, consider breaking it up into a bulleted list.
When you ask a customer to participate in a patient satisfaction survey, you are asking them to spend their time so that you gain valuable insights. If you are conducting an in-depth survey, incentives are a great way to show that you value the respondent's time and effort. 
Benefits of Utilizing a Call Center for Healthcare Surveys
The following are ways in which a call center for healthcare can benefit your business.
Improved Customer Service
Patients are at an emotional low when they come to your healthcare facility. Improved patient satisfaction is a product of personal touch and quality feedback to make your patients feel comforted and valued. Call center agents can help pinpoint challenging areas and work to improve customer service.
Getting feedback from patients is essential to improving your service quality. However, conducting an effective survey to get customer feedback can be costly. A reliable call center can help you conduct automated surveys that are cost-effective for your business and convenient for your patients. With automated surveys, you will eliminate the inconsistency and quality issues associated with phone calls by individual agents.
A survey response rate refers to the percentage of people that responded to the questions out of all the people who were sent the survey. A high response rate is crucial because it impacts the quality of your data. A call center can help you increase survey response rates by personalizing it. They can personalize the survey by addressing patients by name or referencing the service they used. 63% of customers expect personalization.
A survey is conducted to gain meaningful insights from data. Therefore, it is essential to ensure that the data is accurate. Every customer interaction holds important data and valuable insights. Unlike in-person interactions, call center conversations are recorded, and every conversation has data to learn from. A call center for healthcare facilities can provide accurate data that can help you improve patient satisfaction.
Get Better Results with a Call Center for Healthcare
A patient satisfaction survey can help you improve customer service at your healthcare facility. For the survey to be effective, you must ensure it is accessible and use simple language. You can also offer incentives for completing the survey. Using a call center can help improve customer service, improve data accuracy, and increase response rates. 
If you need help managing your customer satisfaction surveys with a trained call center for healthcare facilities, contact us, and we will be happy to help you.