For any dentist, communication and excellent customer service are key. If you want to grow your dental practice or stand out from your competitors, you must create a pleasant, personalized, and convenient experience for your customers. This starts with offering the right receptionist services.
Dental emergencies will not always occur when it is convenient or during business hours. However, with a live answering service for dentists, that will not be a problem. Live answering services reply to phone calls on behalf of other businesses. A live answering service for dentists includes virtual receptionists who are trained and skilled professionals. They can offer full customer service and support by handling different questions and situations.
If you are considering growing your dental practice, you have come to the right place. We will discuss why you need a live answering service to take your dental practice to the next level. Keep reading to learn more.
Why You Should Consider A Live Answering Service For Dentists
A live answering service for dentists is helpful even if there are no emergencies. Here are more reasons you should consider a live answering service for dentists.
Better Appointment Support
Managing appointments is not a walk in the park. Appointment scheduling can be challenging, especially if you do not have the right technology and staff. This can lead to missed opportunities for existing patients who want to schedule appointments, which is unprofessional and costly. Besides, missing a call creates a poor first impression if a patient is calling you for the first time.
With the help of a live answering service for dentists, your patients can call anytime and change or check on appointments. They can also call to schedule new appointments at their desired time without bothering your staff, and you can trust that the rescheduling will be done perfectly. This simplifies things and ensures that your staff does not have a hard time managing a full schedule of appointments. 
A live answering service for dentists will call your customers or patients to remind them of their pre-scheduled appointments. This will help prevent or reduce the number of no-shows, which may lead to a loss of revenue. The service is seamless and patients will not know that the call did not originate directly from your office. 
Better Patient Relationships
A live answering service for dentists will promote a better relationship between you and your patients. They will be happier with excellent customer service because someone will always be available to answer calls.
Improved Response to Emergency Calls
Answering services are always available to answer calls and can help patients who need assistance after office hours. Your patients will not want to hear an automated voicemail when they call because of an emergency. Also, it may not be possible to talk to them when you are doing a procedure or with another patient. However, that does not mean you should ignore an emergency call while helping another patient
Therefore, you will need someone to talk to them and address their needs calmly and professionally. They should be equipped to inform you of all the relevant information as well as their concerns. A live answering service will do all this.
Frees You to Focus on Patients in the Clinic
As a dentist, your main role is to offer quality dental care, not to answer calls. And if you have a busy clinic, your current staff should also be focused on the patients – checking them in, filing forms, taking care of billing, and of course, providing excellent in-person care. 
A live answering service will free you and any other staff to completely focus on patients in the clinic as a live virtual receptionist takes messages and calls. This way, your work will go on uninterrupted, but any patients who call will not feel ignored (most calling patients may choose someone else if they find you unresponsive).  All of this will help you improve and grow your dental practice.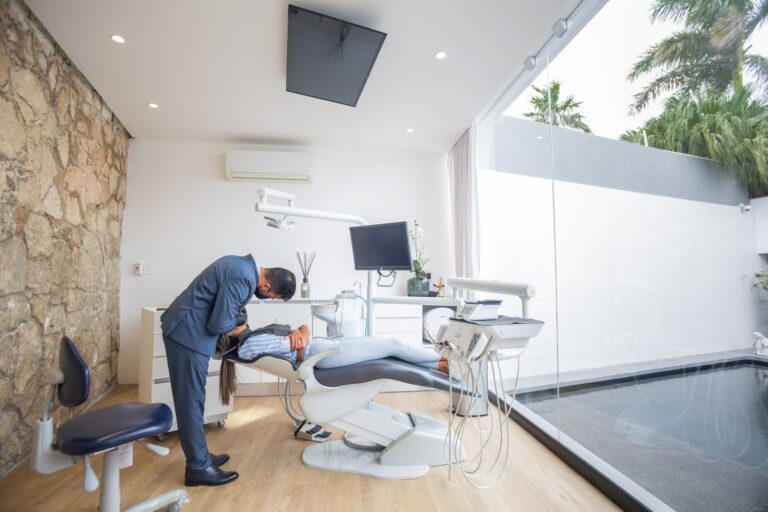 An Answering Service for Dentists Ensures HIPAA Regulations are Covered
The Health Insurance Portability and Accountability Act (HIPAA) is important for your dental practice. HIPAA refers to a set of laws created to help protect the privacy of patients and their protected health information.
A HIPAA-compliant live answering service will provide customer support and ensure that your patients get the necessary care while also protecting their personal information. Whether the virtual receptionists are answering a call about the results of a life-changing medical test or just a simple medication refill, they will do all they can to handle the patients with privacy and sensitivity.
HIPAA-compliance live answering services for dentists are not just great to have; they are required by law. 
After-Hours Support and Improved Response to Emergency Calls
In dental practice, emergencies are not limited to traditional working hours. Your patients should still be assisted even after your clinic's business hours. However, it may not be possible to handle all these emergencies after a busy working day.
Patients who need urgent dental care may not be patient enough to leave voicemails or wait on hold. Instead, they will need immediate attention from an individual who understands what they are talking about. With a live answering service for dentists, you will be able to offer your patients speedy responses and reassure them that their concerns will be taken care of in time.
A dental answering service will provide a trained and dedicated staff to handle emergency calls and ensure that your patients get the needed care as soon as possible.
How many times has your sleep been interrupted by a late-night call? How many of these calls were "real emergencies?" A live answering service for dentists will help you save a lot of time and aggravation by screening the after-hours calls for you.
Highly trained virtual receptionists can tell whether or not a call is truly an emergency before forwarding it to you. You will only need to provide them with a workflow and customized script and create a system on how to channel actual urgent calls to an on-call dentist.
Answering Service for Dentists Helps Save Costs on Office Staff
Another benefit of a live answering service for dentists is the reduction of costs. Outsourcing appointment scheduling and call handling to a reputable answering service can help you grow your dental practice by saving money in many ways.
With a dental answering service, you will eliminate the need for additional in-house staff. This will help you to save on costs since it can be costly to hire and train additional staff members to handle calls and schedule appointments.
A live answering service for dentists will offer the necessary support without the additional expenses of maintaining, training, and hiring additional staff. Therefore, you will be able to reduce the labor costs for your dental practice and lower the overhead for the practice. 
Most dental answering services operate on a time-based billing model. This can be more cost-effective compared to having a full-time employee. This means you will only need to pay for the services you need instead of incurring the costs of a full-time salary and other expenses. 
In addition, having a dental answering service will help reduce the amount of time your staff spends on the phone as they will not be tasked with answering calls. This will allow them to focus on other important tasks. It makes them efficient and more productive because they will be attending to duties related to their roles. 
Using an answering service for dentists has several benefits and is valuable for dental practices. The benefits include better appointment support, better patient relationships, and saving costs on office staff.
Having an answering service for dentists with a specifically trained receptionist means that they understand HIPAA regulations regarding patient confidentiality. Besides, it enables after-hours support and improved response to emergency calls. These benefits can lead to more effective dental practice, higher patient retention, and increased revenue.
If you're ready to grow your practice, you should consider investing in a live answering service for dentists. Please click the following links if you want to learn more about all the options when it comes to medical answering services and live virtual receptionists. And please don't hesitate to contact our team with any questions.