Customer support is one of the most important aspects of running a successful company, regardless of industry. It includes all essential services meant to help your customers use a service or product. If you want to provide better customer support, you should  be examining all aspects of it, including training, upgrading, troubleshooting, answering, planning, and assistance.
Your customer support department is crucial because it directly connects your customers and your business. Your customers must feel valued, and their issues promptly addressed whenever they contact your office for help. Nobody wants to wait in line to be helped in this fast-paced, high-technology world of telecommunications. Modern consumers want immediate responses, timely results, and quality interactions.
As your customer base grows, calls for support and inquiries increase. You must find a way to provide exceptional customer support without hindering other business operations. A US-based call center can help you provide better customer support and ensure that you have enough time to focus on other important tasks to grow your company. With a call center, you can be sure your customers will get excellent customer support anytime they contact your office for help.
If you are considering outsourcing a US-based call center for your business, you have come to the right place. This article will discuss how US-based call centers can help advertising agencies, insurance, and technology companies provide better customer support. Read on to learn more.
Importance of Better Customer Support for Business Growth
The following are ways in which excellent customer support can contribute to the success of your business.
Increased Customer Retention
If you run any business, you know how important it is to retain a customer and have a huge customer base. Keeping your customers or having a large customer base increases your revenue. It is also much cheaper to retain a customer than to acquire a new one.
Providing good customer support is an effective way to keep your customers returning for your products or services. 89% of customers are more likely to complete an additional purchase following a good customer service experience. 
Encourages Customer Loyalty
Customer loyalty refers to a customer's commitment to your brand or business. A loyal customer is a precious asset to your business. They will always purchase more and more often. Loyal customers will always choose your brand over other brands, which helps to eliminate competition.
Providing excellent customer support creates a positive experience and promotes customer loyalty.
A good reputation is vital for your business. Your customer support team communicates with your customers every day. They are the face of your company. When your customers contact your office, they need their concerns to be addressed promptly and effectively.
How your team interacts with customers can improve or damage your company's reputation. Having a good reputation can help you get more customers. Many customers consider purchasing products or services from a company because of its reputation. With good customer support, you improve your company's reputation.
Positive word-of-mouth referrals come directly from existing and previous customers that have had a great experience with your business. They will share their experience with friends and may even post to their social networks about your great customer support. Word-of-mouth marketing is often a business's best and least expensive method of marketing.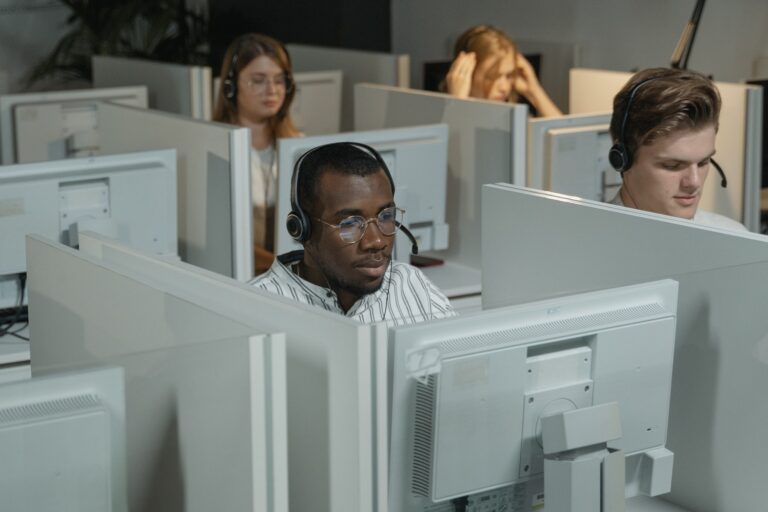 Benefits of US-Based Call Centers
Choosing a US-based call center means you have a team of people who live and work in the US. The following are the benefits of US-based call centers for business.
Quality Communication with Customers
Most businesses are not able to provide quality communication with their customers because of the growing volume of calls. When your customers call your office for support, they need immediate assistance from a qualified person.
Having a US-based call center ensures a steady flow of communication with customers. Call centers can stay open round the clock and help people get in touch with the business at any time.
Time and Cost-Efficiencies
While customer support is essential, not every company has the finances and capacity to set up an effective department for this function. For effective and efficient customer support, you will want to invest in facilities and equipment. You will also spend a lot of time and money recruiting and training your customer service staff.
With a US-based call center, you will not have the stress of recruiting and training in-house staff to help with customer support. A dedicated call center provides qualified customer support agents trained in answering queries according to your guidelines. 
Language and Cultural Compatibility
One of the most significant advantages of a US-based call center is the ease of communication. Your customers will not pay attention to what your representative says to them if they face a language barrier. US-based call centers employ native English-speaking call agents who are familiar with American culture. Cultural familiarity can lead to faster problem resolution and improved customer satisfaction, which can help maintain a positive brand image and ensure repeat business.
US-based call centers also have local expertise that may be valuable to your customers.
Example #1: Advertising Agencies Can Elevate Client Service with US-Based Call Centers
If you run an advertising agency, you have to become customer-focused and customer-obsessed. Your customers are the lifeblood of your agency, and they will make or break your overall success. Your clients want the best from you! They want you to expand digital outreach and help set the long-term strategy.
With increased business competition and high advertising costs, an effective advertising response solution is essential to ensure your agency achieves the maximum return on your investment. Excellent customer support and communication skills are incredibly crucial for your advertising agency.
A US-based call center can help you provide 24/7 customer support to your clients. Whether they call on a weekend, holiday, or after-hours, a qualified receptionist will be available to answer their calls.
Example #2: Insurance Companies Enhancing Policyholder Experience and Providing Better Customer Support
One of the keys to staying active and growing your insurance company is investing in the customer experience. Your customers want to be educated, engaged, and communicated with clearly so they feel valued and understood by their insurers. You will need to educate your customers about what is covered in their policy in a language they understand.
In the insurance industry, how you relate with your customers and the kind of customer support you provide defines your brand. Your customers should not have to jump through hoops to get in touch with you. You should always be available to provide better customer support.
A US-based call center can help you handle policyholder inquiries, claims, and support. Professional call agents will be available 24/7 for reception services, claim support, and more. Their agents are native English speakers with cultural familiarity, so communication will not be a challenge.
Example #3: Technology Companies Delivering Technical Assistance & Better Customer Support
There is never a dull moment in the tech industry. From data backups to server maintenance and tech support, the fast pace of technology never slows. Technology-based businesses need smart, constant customer support. Despite efforts to push communication online, modern consumers expect to reach a live person on the phone. Not meeting this expectation can be detrimental to your company's bottom line.
A US-based call center can help you provide knowledgeable and efficient technical support to your customers. Your company will often have routine tech support questions that can slow down your productivity rate. With a qualified call agent on hand, your customers can get quick help with some of the most frequently asked tech questions. Your customers will see how dedicated you are to providing them with the best tech support based on how quickly you respond to their phone calls.
A US-based call center can help you provide better customer support in different ways. Call centers employ native English-speaking agents with cultural familiarity with US business. They will help you achieve faster problem-solving and improve customer satisfaction. Other benefits of US-based call centers include 24/7 customer support, time and cost efficiencies, and improved communication with customers.
If you are looking for a US-based call center to help you with customer support, consider leveraging the help of Always Answer for better customer support. Contact us for any questions, and we will be happy to help.