In today's competitive business environment, companies must do everything possible to stay at the top of the industry. One of the best ways to grow your business and stand out from your competitors is by offering excellent customer service. 
Hiring an answering service can benefit your company in many ways, such as providing better customer service and increasing customer satisfaction with 24/7 customer support. This will also ensure you do not miss important calls when you are out of the office. For many businesses, a missed call could mean a missed opportunity. An answering service also offers cost savings because you will not have to recruit, hire, or train an in-house receptionist. 
While an answering service provides many benefits, it can be a challenge to choose the right one for your business. There are many answering service providers and selecting the right one can be a daunting task. Since the person who answers your phones is often the first contact your customer has with your business, you cannot afford to make the wrong choice by hiring an answering service that doesn't provide the high-level quality customer service your company needs to stay ahead of your competitors.
This article will walk you through the top 3 mistakes companies make when hiring answering services to help you avoid doing the same. 
Mistake #1: Hiring an Answering Service That Lacks Experience
When most companies hire new employees, they typically screen for prior experience in the field. If you want to hire the best answering service, you should take the same approach. 
An answering service can help your business grow and meet your customers' needs. However, not all answering service providers can help you achieve that. While it is important to find an answering service provider that is knowledgeable about customer support, it is also important to find one that understands the specific needs of your industry. 
Lack of experience in truly understanding what both your business and your clients need often leads to missed or mishandled calls. This can lead to many issues going unresolved, as well as dissatisfied customers. If your clients are treated unprofessionally, they will become frustrated and seek services elsewhere. 
When hiring an answering service for your business, you should be able to easily determine the level of knowledge and experience they have with basic call answering as well as other matters related to your industry.
An experienced answering service with years under their belt will provide you with top-notch service, resulting in no missed calls, minimized wait times, and increased customer satisfaction. Since they have knowledge of matters related to your industry, they will help you answer your clients' questions when you are out of the office. They can also offer you tips and suggestions based on their previous experience within the industry. 
Always Answer is an experienced and well-established company. Most of our team has been working with us for 10-20+ years, so they know a thing or two and have experienced just about everything. Nothing will surprise them!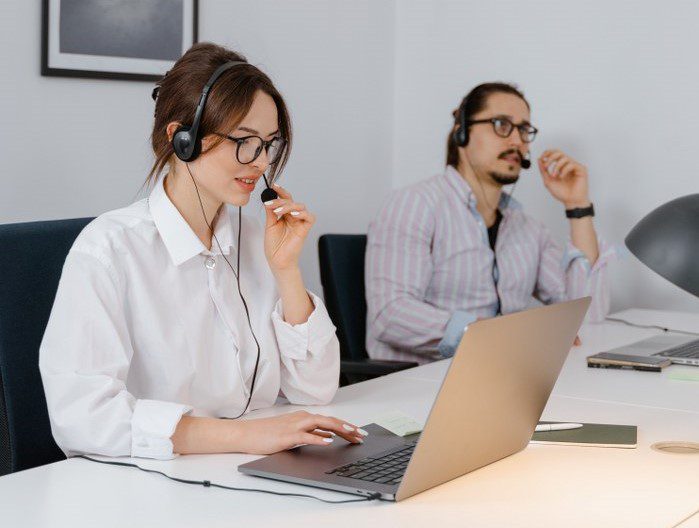 Mistake #2: Hiring an Answering Service That Doesn't Have the Organization to Keep up With Client Requests
A disorganized and inefficient answering service can negatively impact your business in a number of ways. If you hire an answering service that does not have the organization to keep up with the client requests and inquiries, you are likely to lose your customers.
Some answering services only offer basic or limited services and may not be able to meet your needs. A reliable answering service does not just take your customers' phone calls; they keep you on track. They will help you with other tasks, such as taking payments, rearranging appointments, and canceling appointments.
When choosing a live answering service for your business, you should consider one that has a proven track record. You should find out whether or not they have received good reviews or testimonials. Also, ask them whether they have won any awards or received certifications from industry associations. 
In addition, you should consider the emergency backup plan of the provider. An excellent live answering service provider should have an emergency backup plan. For instance, they should be able to reroute phone calls during an emergency, and should include data backups and backup generators. 
Our team at Always Answer is known for being responsive to our clients' needs and able to implement changes as soon as possible. This results in more productivity and efficiency for you. An organized answering service will ensure that both you and your customers get 24/7 customer support. 
Mistake #3: Hiring an Answering Service with Limited Size and Technology
Technology in business is a growing necessity. No matter the size of your company, technology can benefit your business in many ways and help you provide better customer satisfaction. 
When choosing an ideal answering service for your business, you should opt for a company that is continually seeking the best technology and training its staff. Your customers deserve the best and should interact with a knowledgeable person and streamlined systems and processes when they call your office.
You should ask about the answering service provider's telephone platform and what capabilities are available. Some providers will offer a free client portal to view messages, while others will provide call recordings or specialized apps for call monitoring needs.
You should make sure that your answering service uses a high-quality noise cancellation system. The number of call agents provided should also suit your firm's size.
A technologically savvy answering service will allow you to gain valuable insights into customer needs and preferences. With a large talent pool to pull from, it will also allow you to scale at the rate you want. 
We are leaders in new tech and are constantly in the know of what is available through industry organizations. Most importantly, we have a team who have extensive experience and ongoing training to make the business growth you want happen smoothly and effectively.
An answering service can benefit your business in many ways, such as by providing 24/7 customer support and improving customer satisfaction. Your customers are the heart of your business. They deserve the best and should feel valued. A satisfied customer will come back again (and again!) for your services and refer you to potential clients. 
An answering service can offer comprehensive solutions to customer support services. However, a bad phone interaction, whether from a lack of professionalism, improper transfer of calls, or longer holding time, can cause major damage to your business reputation. Avoid all the common mistakes outlined above by hiring an answering service with a proven track record that you can be certain you can depend on. 
Please contact our team to learn more. We'll be happy to answer any questions, provide customer reviews, or talk you through all of our service offerings in order to find the ones that best suit the needs of your company.