Excellent customer service is vital for any business looking to succeed in a competitive market. In today's competitive business environment, the quality of products or services and the level of customer experience provided makes a business stand out from others. Achieving the best qualities of customer service is crucial because it directly connects your business and your customers.
Customers today have higher expectations for quality service than ever before. Research has shown that 93% of customers are more likely to purchase again from brands with excellent customer service. 64% of consumers consider customer experience more important than the cost of a product or service when making a purchase. Therefore, businesses must find ways to differentiate themselves from their competitors and stand out in the market. Taking the time to thoroughly train your customer service team on your services and industry will go a long way towards achieving customer satisfaction. 
If you want to stand out from your competitors by offering a great customer experience, you have come to the right place. This article will discuss various qualities of customer service every business should strive for. Keep reading to learn more.
How Businesses Fail to Deliver Great Customer Service
While excellent customer service is essential to any successful business, achieving it may not be easy, especially when you have a large customer base. 
Some of the challenges of providing great customer service include failing to understand what your customers want, not having an answer to their questions, and dealing with angry customers. Even the best companies receive calls from angry customers.
Here are more reasons why businesses fail to deliver great qualities of customer service.
Changing Customer Expectations
Frequent customers seem more demanding of what they expect from companies. Many consumers now want to know what companies can do for them beyond providing excellent products and services. These expectations can cover a wide range of factors and touchpoints, such as:
Data protection and privacy

Personalized, engaging experiences

Opportunities to answer questions themselves through self-help options

Fast and easy resolutions to their issues

Provide well-trained and informed representatives
However, most businesses do not keep up with changing customer needs. A company may fail to deliver great customer service if it does not understand the expectations and changing needs of its customers.
Companies need to have clear customer service processes. If a business does not have a good customer service process, it can often lead to confusion. In addition, if they do not have the necessary organizational skills and resources, it can lead to unclear processes and customer dissatisfaction.
8 Excellent Qualities of Customer Service
When your customers interact with you, they should feel comfortable bringing their concerns to your attention. They should feel they are being listened to and an expert is addressing their concerns. Your customer service team should be approachable and friendly. They should also be knowledgeable and well-informed about customer issues.
Below, we cover 8 of the best qualities of excellent customer service.
A customer service representative should be able to endure difficult situations without anger, frustration, and other emotions. Your customer service team often receives phone calls from angry and disgruntled customers. They must be patient in such situations. They should also demonstrate a high level of respect and courtesy to customers.
If you are dealing with an angry or frustrated customer, you should remain calm and collected, which shows you are attentive to your customer's concerns. Attentiveness leads to a good understanding between customer service representatives and clients and helps them achieve customer satisfaction. Besides, showing patience can help to de-escalate any negative emotions a customer may have, making it more likely that they will have a positive experience overall.
Empathy is the ability to understand your customers' feelings as well as where they are coming from. For instance, if your customer has a problem, you can show empathy by understanding what they are going through and taking the time to express concern. This will let them know your company is concerned about their feelings.
By being able to put yourself in the customer's shoes and understand their needs and feelings, you can provide a more personalized and tailored experience that meets their requirements. Instead of providing a generic response, you should listen to their concerns and offer a solution addressing their needs.
Customers want businesses to be proactive in reaching out to them. If you are experiencing a technical hitch or if services will be affected, you should proactively reach out to your clients and explain the problem. Although they may not be happy about the situation, they will be thankful that you informed them early enough.
A customer service representative will have a hard time solving a problem if they cannot communicate the solution. By working with your business, they should also ensure your customers understand procedures, policies, and what they should expect. Your customers should be kept informed about progress, changes, and updates. In addition to communicating with your clients, they should be strong communicators with your team.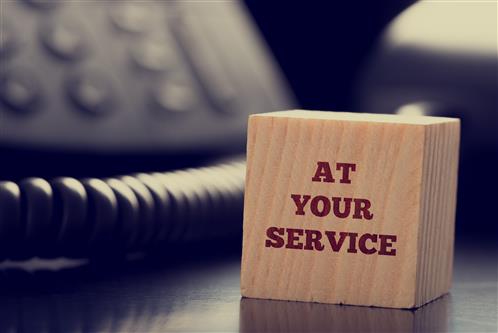 Excellent customer service is all about always being there for your customers. Whether your customers have a complaint, or question, or just need some guidance, you should be available and responsive to them. No one wants to be kept waiting for a response, so you should be quick to identify and resolve customer needs. Responsiveness shows that you value your customers.
When customers call your office, they expect to speak to an expert or someone knowledgeable about their concerns. A reliable customer service representative should be knowledgeable about the services your business offers. They should also maintain a professional tone even when dealing with frustrated customers. In addition, they must have a fair idea about the latest trends in customer service and their respective industries.
Often, customer service representatives get messages and phone calls from people who are not looking for customer support but are considering purchasing your products or services. In such situations, the representatives should possess some mastery of persuasion, so they can convince potential customers. This can help your business get more clients and grow its revenue.
Great customer service starts with a human touch. Customer service representatives should be able to craft unique experiences that are tailored to each customer. This can improve customer satisfaction by letting your customers know that you care about them and their concerns. 
How An Answering Service Can Help Deliver Amazing Customer Service
Your customer service team is the face of your company. Investing in customer service helps you grow your business because loyal customers can help you acquire new customers free of charge by convincing prospects to interact with your company. Providing excellent customer support can also help you save and make money.
Consider investing in an answering service to help deliver next-level customer service. An answering service can help your business provide excellent qualities of customer service. With an answering service, you will be sure that someone knowledgeable and professional will answer your customers' phone calls when you are not in the office. They will ensure that your customers understand all policies, procedures, and what they can expect by working with your company.
An answering service will help your business achieve customer satisfaction by providing respectful customer service representatives. Virtual receptionists can demonstrate a high level of respect and courtesy to customers. They will offer 24/7 customer support and ensure that you do not miss important calls.
If you want to hire an answering service, contact us, and we will be happy to help you find the best service for your business and provide excellent customer service.