We are delighted to share the remarkable achievements of our offices as we celebrate winning the coveted ATSI Award of Excellence for the 17th year! Our Dallas Office, Amarillo Office, San Antonio Office, and Reno, Nevada Office have all been honored with this exclusive recognition. 
Presented annually by the Association of TeleServices International (ATSI), the Award of Excellence represents the pinnacle of excellence in the telecommunications and call center industry across North America and the UK.
Each of our offices was awarded this prestigious honor during ATSI's 2023 conference in Atlanta, GA. This recognition is a testament to our unwavering commitment to exceptional service and unparalleled customer excellence.
What is the ATSI Award of Excellence?
The ATSI Award of Excellence is a comprehensive evaluation of our message services over six months, independently assessed by contracted judges. They assess various aspects, including response time, courteousness of representatives, accuracy of calls, knowledge of accounts, and overall impression of each interaction.
For over 27 years, ATSI and CAM-X have partnered to bring this prestigious award, the ATSI AOE (Award of Excellence). The program is a valuable tool for our team to gauge how well we care for our callers. It's not about competing against other answering services; it's a journey of continuous improvement and self-assessment. With all calls graded by a neutral third party, we receive honest appraisals of our quality, ensuring the best possible experience for our clients' customers.
Our offices have raised the bar for outstanding service. We couldn't be prouder of their accomplishments.
Amarillo Office Wins Bronze ATSI Award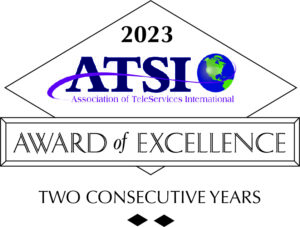 Our Amarillo, TX Office has achieved the Bronze Award for the second consecutive year, showcasing their dedication to customer satisfaction and service excellence.
San Antonio Office Wins Silver ATSI Award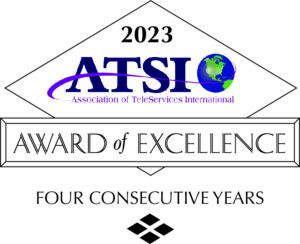 The San Antonio, TX Office has earned the Silver Plus Award for an impressive four consecutive years, a testament to their consistent commitment to delivering top-notch service.
Reno Office Wins Diamond Plus ATSI Award
The Reno, NV Office has reached an extraordinary milestone, winning the Diamond Plus Award for an incredible fourteen years in a row. Their unmatched dedication is an inspiration to us all.
Dallas Office Wins Platinum Plus ATSI Award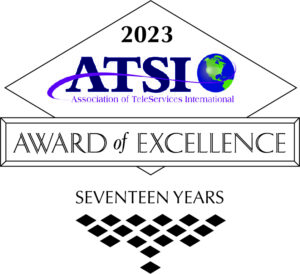 Last but not least, our Dallas, TX Office has achieved the highest recognition, the Platinum Plus Award, for an unprecedented seventeen consecutive years! This remarkable achievement showcases their exceptional service and commitment to excellence.
Always Answer is Dedicated to Raising the Bar
At Always Answer, we are immensely proud of all our branches for their outstanding achievements. Our multiple awards reflect our team's dedication and reinforce our commitment to providing the best possible service to our clients. We are incredibly grateful for their hard work and dedication. Here's to continuing this journey of excellence and raising the bar even higher in the years to come.